If you have 15 or more people requiring training and don't have the travel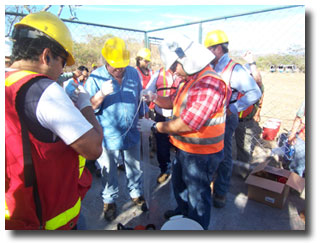 Students in Guatemala learn how to deploy a HydraSleeve in a geothermal monitoring well at a new gold mine site. Here, ground-water temperatures are so high that conventional sampling devices could not be used for well purging or sampling, but the HydraSleeve proved to be a successful option.
budget to send everyone away to attend a training course, consider an on-site training program. This is a cost-effective option available from The Nielsen Environmental Field School - bring us to you and avoid the costs of sending staff off-site for training! This allows you to get the most out of your valuable training dollars -- you can spend your money on the training rather than on travel and overtime for your staff.
We reserve several months each year to conduct on-site training programs for our clients. Please check with us to determine our availability -- we'll be happy to provide you with a comprehensive lump-sum cost to conduct the course of your choice if our schedule will accommodate it.
What is On-Site Training and How Does it Work?
On-site training is training that we provide for your staff at a location of your choice. These services were developed by The Nielsen Environmental Field School for those companies or agencies that have multiple staff requiring training, or for situations where a company or agency is adopting new sampling protocols and wants company- or agency-wide training on implementing the new procedures.
On-site training can be held at your office, a local hotel or conference center, or another convenient location that you select. We do the traveling to your selected location to train your staff. That way, you don't have to send your staff to training courses at remote locations and you don't have to spend your training budget on travel expenses. You get the most training you can possibly get for your training budget.
Most of our clients select one of our standard classroom-only courses for their on-site training, but some prefer that we customize a course for them. When we design a customized course, we take into account details like: who will be attending the course (project managers, field staff, outside stakeholders); how many people will be attending; course timing; course length; topics you want to cover and level of detail; and whether you want to include field training (if you want to include field sessions, you must provide suitable field sites and the required field equipment).
We will tailor the course to your specific needs so your staff get the most out of their training program. Nobody else doing environmental training today goes to these lengths to ensure that you get not just the best training, but also the best value for your money.
Click here to see a couple of examples of customized on-site courses we have developed and instructed for our clients to illustrate how on-site training can work!