About Us
The Nielsen Environmental Field School was created in 1990 in response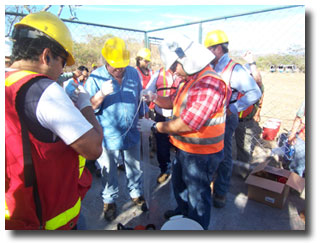 to a demand from the environmental industry for practically oriented, hands-on environmental field training. Twenty-five years later, in 2015, The Nielsen Environmental E-School was created in response to a demand from our clients, students and other environmental professionals for an affordable and highly accessible web-based form of training that incorporates all of the technical content of our popular field courses. The E-Courses offered through the E-School effectively replace the open-enrollment courses historically offered by the Field School. As of September 2015, the Field School is no longer instructing "live" courses on an open-enrollment basis, but will continue to offer a limited number of on-site courses for clients that have groups of 15 or more people to train.
The Nielsen Environmental E-School offers a comprehensive series of professionally prepared E-Modules and E-Courses that provide students with the latest information on the tools, technologies, field practices and methodologies available in the environmental industry that can be used on the job immediately. The Field School's and E-School's principals and key instructors, David M. Nielsen and Gillian L. Nielsen, who possess a unique combination of more than 75 years of environmental field experience and more than 70 years of International teaching experience, instruct all of the E-School's individual training modules and E-Courses.
If you have a group of 15 or more people, bringing the Nielsen Environmental Field School to your office to train your staff is always more cost-effective than sending the same staff off-site for training. By bringing the Nielsen Environmental Field School to your office to conduct an on-site training program, you can invest your valuable training dollars in training, not travel or overtime pay. And, we can work with you to develop a customized training program that focuses on the issues of particular interest to your group and have candid discussions about these issues in the privacy of your own facilities.
All of our E-Modules, E-Courses and on-site courses are designed to meet the educational needs of:
Environmental consultants and contractors
Environmental laboratory field staff
Industry environmental staff (petroleum, chemical, utility, mining, manufacturing, transportation and other industries)
Landfill owners, operators and field staff
DOD and DOE environmental staff and contractors
Government regulatory agency environmental staff (Federal, State, Provincial, Regional, County, City)
Non-regulatory government agency environmental staff
Tribal environmental staff
Learn about the types of companies, agencies and other groups that have participated in our training courses by visiting our Client List!